EHRI Seminar in Warsaw »Polish« sources for Holocaust Research
11.10.2017 08:56:00
---

For six days, fifteen researchers from eight countries (Austria, Canada, France, Germany, Italy, Israel, United Kingdom, USA and Poland) had an opportunity to discover and discuss materials from Polish archives which can be useful for scholars interested in the topic of fate of Jews during the WW2

---
Polish" sources for Holocaust Research - Challenges and Methodological Problems
European Holocaust Research Infrastructure Seminar
Warsaw, September 24-29, 2017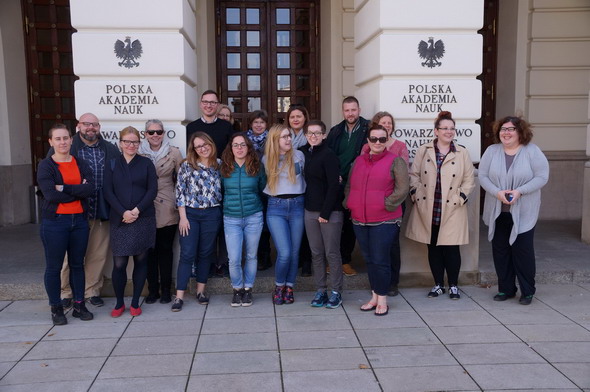 For six days, fifteen researchers from eight countries (Austria, Canada, France, Germany, Italy, Israel, United Kingdom, USA and Poland) had an opportunity to discover and discuss materials from Polish archives which can be useful for scholars interested in the topic of fate of Jews during the WW2. The main goal of the seminar was to bring together researchers interested in working with 'Polish' sources for Holocaust research; from widely known documents, diaries and testimonies to recently opened archives like post-war investigations files. We wanted to talk about opportunities and ways to use those materials - not only in traditional research but also combined with digital humanities. Also we wanted to discuss the methodological challenges relating to Holocaust research and archival documentation.

These goals were fulfilled by presentations, lectures, workshops and on-site visits. The participants were able to gain knowledge about archival sources from the main Polish institutions – Jewish Historical Institute, State Archives, Institute of National Remembrance, State Museum Auschwitz-Birkenau and digital collections created by Polish Federation of Digital Libraries, not to mention EHRI portal. The lectures were also presenting unknown sources – like notebook from Ch. Rotryng's colonial and grocery store in the Warsaw getto – making them a case study for methodological reflections. New approaches to the Holocaust research – like Jewish survival strategies during the war in the cases of counties (powiat)- were also discussed during the workshop. As a ways to use all these materials for the educational purposes, two NGO's educators from Lublin and Oświęcim were showing their work with various groups. Also, during this intense week there was also an opportunity to have a conversation about personal experience in Holocaust research and Polish-Jewish relations in contemporary Poland. Last but not least, one of the main components of the program were on-site visits; the participants had an opportunity to visit the Holocaust gallery in POLIN Museum with the curators, have a guided tours to the former Warsaw ghetto area and Treblinka Museum and visit the Institute of the National Remembrance.
I got a really interesting view on Polish archives, have learned a lot about the current discussions in Polish Holocaust historiography, a lot about the political situation in Poland, made very helpful and good contacts. I`m very thankful!
/Workshop participant/
The seminar was a great opportunity for participants and lecturers to meet, present their research projects, exchange and discuss. We hope it was inspiring and in the future it will bring not only new ideas for the research, but also collaborations with other scholars.